How to Apply
A fundamental principle for UWC is that students are selected based on personal merit alone. During the entire selection process, students will be judged only by their personal abilities, strengths, achievements, and potential, and not by their family's financial or social status.
Eligibility criteria
Saharawi students of age 15-18 with an annual average grade of 15/20 or above from the refugee camps in Tindouf, Algeria are eligible to apply.
Upcoming selections
The next selections will take place in the summer of 2022 in the refugee camps in Tindouf, Algeria.
E-mail us if you would like to stay informed about the selections: info@westernsahara.uwc.org.
Application process
The selection process consists of three phases: (i) outreach; (ii) assessment; (iii) nomination.
i) Outreach. The National Committee will announce the selection through all available social media avenues (Facebook, WhatsApp, and Instagram). Any student with stated qualification is welcomed to attend the first stage of the selections, where we will verify any and all credentials.
ii) Assessment. The first stage of the assessment consist of three elements: a written application form, written exams in maths and English, and participation in group exercises. The latter two will take place in Rabouni during a single day. Based on these three elements, applicants are short-listed for the second stage, a personal interview. The interviews will take place over the course of one or two days in Rabouni.
iii) Nomination. Applicants selected for a scholarship will be invited to a meeting the following day, along with their parents. During this meeting, the nominated students and their parents are given ample information about UWC and what happens next, and the necessary paper work is taken care of. Nominations are sent to the UWC schools for approval.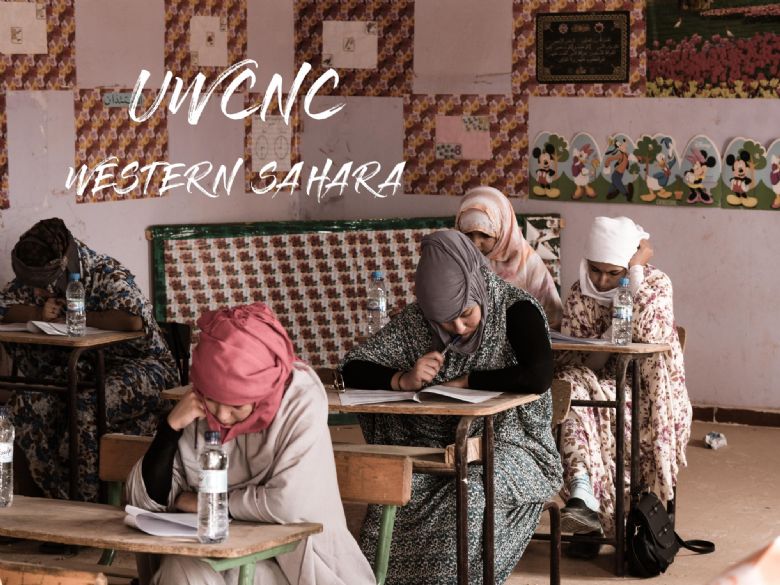 Applicants taking part in the written exam as a part of the 2019 selection process.
Give through UWC International
Give through UWC-USA
This is a Tax-deductible donation. Make Sure to Select a Destination "A National Committee via International Office", then the Purpose as "Refugees From Western Sahara"